10", 8", and 4" x 1/2" AR500 Gong Steel Targets and Stand Package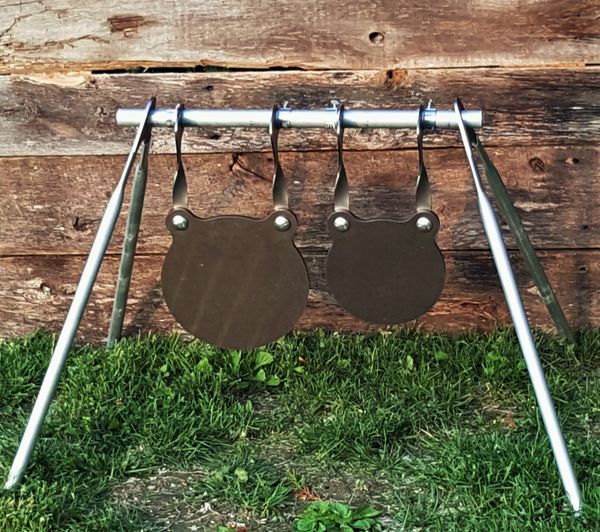 10", 8", and 4" x 1/2" AR500 Gong Steel Targets and Stand Package
Our 1/2" AR500 gong targets are CNC Laser cut to minimize heat transfer to the metal which can make the steel weak. These targets are used in competitive shooting and everyday target practice. The AR500 targets can take hit after hit without worrying about replacing them.
This package includes:
1 - Ø10" x 1/2" AR500 Gong Target
1 - Ø8" x 1/2" AR500 Gong Target
1 - Ø4" x 1/2" AR500 Gong Target
1 - 2' tall x 2' wide Stand (4 Legs and 1 Cross bar)
1- Set of leg brackets
2- Sets of target hangers
2- Sets of hardware for target
2- Sets of keepers to hold the position of the target in the center of the stand
Details:
- Approximate Weight of this Package is 27 pounds.
- All targets are cut to accept 1/2" carriage bolts.
- Only shoot targets at a minimum of 100 yards for rifles and a minimum distance for pistols of 10 yards.
- Combine several targets up to 70 pounds and will ship at one low price of $18.75.
- Made in U.S.A.
In no event shall Twisted River Targets LLC. be liable for any direct, indirect, punitive, incidental, special consequential damages, to property or life, whatsoever arising out of or connected with the use or misuse of our products. Buyer assumes all responsibility for the use and misuse of the targets purchased. AR500 steel is great for target practice and can be safer than shooting into a berm with unknown debris. Make sure to hang the target with a slight angle towards the shooter. This will help project the bullet fragments towards the ground. If the target for any reason were to become damaged and have the shooting surface deformed or bent, do not continue to use it. Shooting the hard flat surface of the AR500 steel makes the bullet fragments predictable in a 20 degree angle from the surface. If the surface becomes damaged, the bullet fragments become unpredictable and could cause injury. Never shoot rifles closer than 100 yards and pistols closer than 10 yards.

Reviews