Lightweight Plate Carrier Vest and (2) 10 x 12" AR500 NIJ Level III Compliant Plates. Two Colors Available!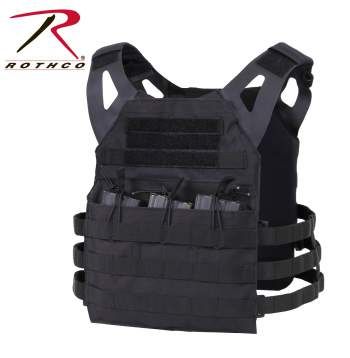 Lightweight Plate Carrier Vest and (2) 10 x 12" AR500 NIJ Level III Compliant Plates. Two Colors Available!
The Lightweight Plate Carrier Vest from Rothco is not your typical plate carrier vest, weighing in at just over 1 pound this tactical vest offers superior weight savings, mobility, and ventilation for the user. The front of the tactical vest features three rows of MOLLE loop material, three pistol mag slots at the top center and three rifle mag slots both with elastic separators & elastic cord and hook & loop closures. In addition, the front features an integrated MOLLE system with three rows of MOLLE webbing for attaching MOLLE pouches and gear. The back of the vest features six rows of MOLLE webbing. A skeletonized MOLLE cummerbund system is designed to ensure optimal fit, minimal weight and added ventilation with three rows of durable plastic reinforced MOLLE webbing. The vest is fully adjustable with two elastic cords for attaching to the backside of the vest and 5"x5" panel with loop front and hook back. The shoulder straps are also adjustable with a soft material covering the hook & loop straps, and the straps are fitted with hook & loop tags for attaching a hydration hose. Both the inside front and back panels are equipped with a stretch mesh material for added comfort and ventilation. Rothco's Lightweight Tactical Vest has stripped away the bulk of a typical tactical vest for an ultra-lightweight fit.

It includes the following:

1. Rothco Lightweight Plate Carrier Vest (Choose your color).
Size: One size fits most L-XXL.

2. Level III Stand Alone Steel Rifle Plates (2) 10 x 12 Comfort Curve Shooters Cut Plates Included Weight approx. 8.3 lbs.each

** This model complies with NIJ Standard-0101.06 for Ballistic Resistance of Body Armor when the plates are installed in the carrier, the carrier itself provides NO PROTECTION! **

Capabilities Of Armor: All of our rifle plates are based on the Level III platform with a Brinnell rating of 500+

The Brinell hardness test is commonly used to determine the hardness of materials like metals and alloys.The test is achieved by applying a known load to the surface of the tested material through a hardened steel ball of known diameter. The diameter of the resulting permanent impression in the tested metal is measured and the Brinell Hardness Number is calculated. "Multi-hit capability

"Defeats 7.62x54mm R LPS 148.0 gr. at 2400+ fps multi-hit (6+rounds)

"Defeats 5.56x45mm M855 Ball 62.0 gr. at 3300+ fps multi-hit (6+ rounds)

"Defeats 7.62x51mm M80 at 2925+ fps multi-hit (6 rounds)

"Defeats 7.62mm NATO 148 gr. (.308 caliber) FMJ at 2780 fps multi-hit (6 rounds)

"Defeats .223 with only slight dimples in target at 80-100 yards (6 rounds)

Remember that there are many factors that influence any type of body armor, position,angles, bullet type, bullet load, weapon type, cover, ect. The term "bulletproof" is a myth. The object of body armor is to reduce the trauma caused by the "hit" or "multiple hits". The body armor is to keep you in the fight until the threat(s) are eliminated.

The buyer of this auction certifies you are a law abiding adult and have NO FELONY CONVICTIONS. Any known felon to possess body armor under State or Federal law is an immediate violation and you will be subject to arrest. By purchasing this body armor you agree and hold harmless the seller due to any risks or misuse, and will not hold the seller of this auction liable in any way. In addition, the seller will not assume or authorize any person to hold the seller or it's owners or agents liable in regards to the sale or intended use of the above item sold. No warranty for misuse, destructive testing or improper care will be valid including refunds on the Level III rifle plates. All carriers that are defective upon arrival will be replaced, however the defective carrier or attachments must be sent back to the seller. Any statement made in writing or verbally on the sale of the above auction, shall not validate the warranty that the above auction. Any images, testing data or descriptions or verbal communications are intended to be informational based on the best technical test data available and not a warranty of the above auction in any way. The sellers representation of the above auction, limits any type of warranty, or liability related to the use of the above merchandise. You must obey all laws both State and Federal including the safe practices while shooting. This includes the use of any and all safety equipment while using this product.

Export of this product is restricted under US ITAR rules. NO INTERNATIONAL SALES PERIOD! This includes Canada.



Reviews