WARRIOR-ACH™ Advanced Combat Ballistic Ground Forces Communications Helmet - Made in USA IIIA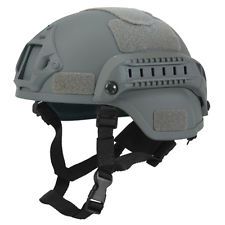 WARRIOR-ACH™ Advanced Combat Ballistic Ground Forces Communications Helmet - Made in USA IIIA
The WARRIOR-ACH™ Advanced Combat Ballistic Ground Forces Communications Helmet System, designed and produced to combat a wide spectrum of small fragments and handgun rounds. The WARRIOR-ACH™ provides solid battle-proven head protection. The ACH helmet is widely used by U.S. and other foreign military branches.

The base material of the helmet is comprised of Aramid fibers in a composite matrix.

Our comfortable "Hex II" Pad System, in combination with a four point Easy Adjust™ retention system, allows for several adjustments to achieve a snug and extremely comfortable fit. The use of an X-style nape pad in the 4-point retention makes the helmet very stable even when using Night Vision Goggles (goggles sold separately).

The WARRIOR-ACH™ integrates with Phalanx's Easy Adjust II™ Suspension System, Type I Para-Rails™ Helmet Rail System, TAC One™ Headset and TAC TWO™ Headset for tactical communications and increased hearing protection.

The WARRIOR-ACH™ Advanced Combat Ballistic Ground Forces Communications Helmet System is offered in 4 sizes, S, M, L & XL.

Full Cut side walls for maximum head protection

Full-Cut shell provides maximum protection

Includes Arbitor™ NVG Shroud, bungee lanyards, Type I Para-Rails™ & integrated chinstrap

Lightweight, multi-impact, ventilated liner with repositionable Hex II™ pad system made of closed-cell comfort foam that is not affected by temperature, altitude, or moisture

Clockwise II™ adjustable suspension system with dial adjustment allows for convenient donning and doffing of COMMs headsets with headbands

Integrated Easy Adjust™ retention system gives the helmet 4x more stability than standard issue ACH helmet suspension and retention products

Comes standard with MARSOC / WARCOM night vision 3-hole mount pattern, one-hole and NO hole available

Helmet Shell Made in the USA in a registered ISO 9001:2008 facility!
Assembled in Fairmont, West Virginia

Phalanx International, LLC uses only the highest quality materials in the manufacture of all of it's products. All of our ballistic products and helmet accessories are covered under our limited life time warranty.

Reviews